ERP stands for Enterprise Resource Planning, this system will have you manage your entire company. One of the essential components of an ERP system is the Financial Module. In this article, we will detail the ERP Finance Module and Advantage of ERP Finance.
What is ERP Finance Module?
Before we come to the definition of the ERP Finance Module, let's take an overview of What is ERP? It's a process that helps you connect all business resources with a single system. If you want to look at the ERP definition deeply, come to Global ERP Reviews to learn more.
The ERP Finance Module is the first part of the ERP system that you will see when completing the ERP integration. It contains accounting records such as balance sheets and general ledger (GL). Also, this ERP financial system allows you to handle related transactions.  
This finance component will access the accounting data to connect with your core business functions, such as production planning, ERP inventory management, order management, and customer relationship management.
As we mentioned in the previous article, integration is essential for business, the ERP Finance Module is the same. You can ensure accounting accuracy and meet financial regulations to manage your business.
Features of ERP Financial Module
ERP Finance is one of the ERP modules that help you manage your business; keep following to learn more about its main features
General Ledger
One of the primary features of ERP financial systems is General Ledger (GL). It is an accounting document that provides an overview of your company's financial data during its operation.
With ledger management, you can control all accounts' debit as well as credit balances. Also, you can keep track of assets, liabilities, capital accounts, income, and expenses. As a result, you can reduce accounting errors.
Preparing the trial balance from this data and then creating the company's financial statements such as the balance sheet, income statement, cash flows statement, and others.
Accounts Payable
The Account Payable (AP) are amounts you import from the suppliers and pay back in a short period. Through AP, you can control the money that you owe and the payment terms, as well as manage this amount on the company's balance sheet.
ERP Finance Module will connect the expense data with your purchasing system and also automatically process a large number of invoices and other transactions. As a result, you can control the cash flows, save time and avoid human errors.
Accounts Receivable
The amount of money you will receive from your customers in the short term is called Account Receivable (AR). They buy your products or services but pay them back in the future. This amount will be listed on the balance sheet as a current asset.
The Account Receivable allows you to manage all the funds customers owe you. Also, you can expand the number of potential customers for your business. Moreover, it will measure the liquidity or ability to cover short-term obligations without extra cash flow.
Advantage of ERP Finance is that allows you to track all incoming payments from your customers with this feature. You can automate tasks such as creating invoices, sending payment reminders, and account payments.
Asset Management
Asset Management is all practices of developing, maintaining, and selling assets at an effective cost. Its purpose is to increase the value of an investment portfolio over time while minimizing risk.
Every business needs to track its assets, so the stakeholders will know which available assets to be used to provide optimal profits. There are two types of assets: fixed and current assets.
The fixed assets are required for long-term use, and you can track or manage tangible assets such as computers, equipment, and vehicles.  In contrast, the current assets are converted into cash quickly.
Cash Management
The other Advantage of ERP Finance is Cash Management. This is a process of collecting and managing cash flows to pay your obligations regularly. Managing cash is essential for your business, such as using it as investment capital to invest in long-term assets.
Customer Management
Customer management as well known as CRM, is the activity of improving your business relationships by connecting with your prospective as well as current customers. Also, you can organize the data and align your inner business processes.
With Customer Management, you can collect, research and analyze the customer data such as their behavior, buying preferences, and demographics. This feature of the ERP finance module enables your business to provide the best service for your customers as well as identify growth opportunities.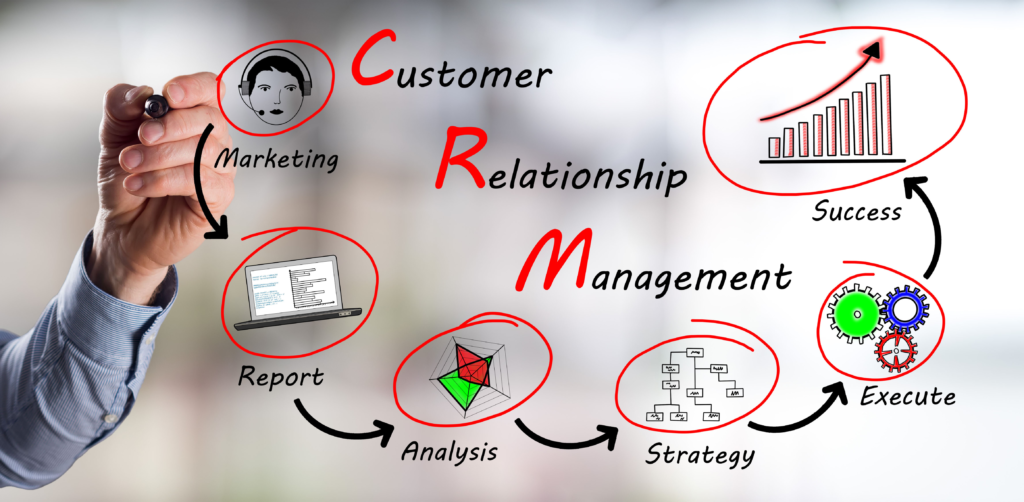 Vendor Management
Managing your suppliers via Vendor Management, such as controlling the cost, driving service, selecting vendors, negotiating contracts, and reducing risks. As a result, you can increase the value of your vendors and gain the ideal profits.
This feature plays a vital role in your business because of choosing the perfect vendors, ensuring the goods and services will be provided on time. By managing your supplier effectively, you will be able to achieve your business goals.
Banking Management
One of the highlight Advantage of ERP Finance is Bank Management – the process of running the banking system smoothly. Its main goal is to build an organic as well as optimal system of relationships between the banking elements to increase profits.
With Banking Management, you can control the service fees and manage approval also disapproval of bank loan operations. Moreover, controlling the issuance of deposits and ensuring capital adequacy.
Profit Tracking
Profit tracking is the natural progression of revenue, as well as ROAS and ROI tracking. It allows you to follow the profit streamlining of each transaction created from your online marketing. These profits only consist of the cost of goods, shipping, discounts, taxes, transaction fee, and so on.
By tracking your profits correctly, you will know the exact amount that you afford to maximize the profits in real time. As a result, you will know the actual profit of each transaction, then make the right decision to crease your profitability.
Multi-currency management
In case you have global customers or vendors, the Multi-currency management feature of the ERP Finance Module will support you. You can automate buying and selling products in foreign currencies. Therefore, you can minimize the company's financial risk of changing currency values.
Speaking in the customer's language will add promising new markets and capture the price markup. Buying in a vendor's currency enables you to spread the range of potential suppliers. As a result, your business will lead to higher profit margins.
Reporting
Reporting will show you all financial statements in real time. You will know your sales, expected sales, expenses, and revenues. Through it, you can create the right plans and avoid regretting risks in the future. With the Advantage of ERP Finance, your business can conduct accurate reports and reduce human errors.
Which Activities do Accounting and Finance Components Perform?
ERP software is a valuable tool for effective business. It saves you time by connecting various business processes with a simple system in real time. To maximize the benefits of ERP systems, you need to have the right ERP strategy. So, you should research the good ones for your business.
The accounting and financing components will support you in business processes related to money flows. You can analyze and keep track of financial data such as accounts receivable, accounts payable, budgets, and assets management. In this way, you will have the picture of economic forecasts as well as the increasing profits plans.
Best ERP Vendors for Finance
We discussed the ERP system, and you know how essential it is to your business. There are various choices in the market, such as SaaS ERP solutions or others, so choosing suitable ERP systems is a challenge.
To help you make the right decision, we listed some ERP vendors for finance below. Scroll down to learn about what it is as well as its features.
Acumatica is a technology provider that offers a cloud and browser-based ERP for all businesses. It provides a solution to keep track of accounts payable and internal communication. With Acumatica, you can access the software via your computer's browser via an internet connection. So, you will gain the benefits of software as a service.
There are a lot of tools to help you run your business effectively:
Financial Management
Distribution Management
Customer Management
Project Accounting
Commerce Edition
Field Service Edition
Construction Accounting Software
SAP Business One (SAP B1) is a business enterprise management application. It connects core operational tasks for the whole business with a cost-effective method. With SAP B1, you will automate your business process as well as manage its resources.
This is an all-in-one solution that offers you the following:
Account and Finance Management
Purchasing
Inventory Management
Customer Relationship Management
Human Resource
Logistics and Warehouse Management
Manufacturing and Material Management
Supply Change Management
Business Intelligence
Reporting and Analytics
Dynamics 365 Finance & Operation is an ERP solution from Microsoft to speed up the accurate business process. It's easy to synchronize your systems and scale up to the global operation. This system offers you a competitive advantage by providing a modern ERP with a friendly user interface, new functionalities, integrations to Microsoft CRM apps, and business intelligence.
It designs for all businesses that want to cover full functionalities, such as
Accounting and Financial Management
Products Management
Warehousing
Transportation Management
Sale and Procurement
Logistics Management
Supply chain
Inventory Management
Manufacturing
Dynamics 365 Business Central is an ERP and CRM application launched by Microsoft. It is cloud-based business management that you can upgrade from entry-level accounting software or a legacy ERP system to a single.
With Dynamics 365 Business Central, you will receive solutions for
Accounting and Finance Management
Operations
Sales and Customer Service
Reporting and Analytics
Warehouse Management
Resource and Project Management
Manufacturing
Order Processing
SyteLine is an ERP software solution for over 5,000 manufacturers around the world. This is one of the top ERP alternatives that connect supply with demand and enables customers to deliver data on time.
This solution will provide you with all tools, such as:
Accounting and Financial Management
Supply chain Management
Manufacturing Management
Planning and Scheduling
Quality Management
Project Management
Collaboration portals
Purchasing
Order Management
Service Management
Inventory Management
Products Management
Integration for a Successful Accounting
Generally, there is no reason not to integrate the ERP system with your business because of the benefits we show above. Besides, there are a lot of opinions about the ERP Integration Challenge, such as planning, configuring, and implementing an ERP system. These have various complications, so you should research each and find its solutions.
Moreover, the integration practice requires coding knowledge, so you should work with a quality integration provider to solve your integration problems. For example, HexaSync Integration Platform – an integration solution provided by beehexa.
In conclusion, there is various Advantage of ERP Finance for your business. We hope that you will find the information in this article. If you are looking for an integration solution, feel free to contact us to have a detailed discussion.